The Swivel Joint, also known as the Rotary Coupling, Rotary Union, Swivel Union, Rotorseal, and Rotary Joint, plays a key role in controlling hydraulic circuits on an excavator.
Excavators use many hydraulic moving parts, to help manoeuvre the mechanical arm, reposition the bucket, adjust the digging angle, and control the tracks or wheels.
This requires different hydraulic circuits,
Upper: Mechanical arm elements
Lower: Tracks or wheels
The swivel connects the two together through a central shaft, to avoid a mass of twisted, tangled, or torn parts. Holes bored into the shaft allows fluid to flow through the swivel to its targeted cylinder, and as the centre shaft moves independently without restricting fluid flow, both upper and lower elements can move in different directions.

Typical design of a Swivel Joint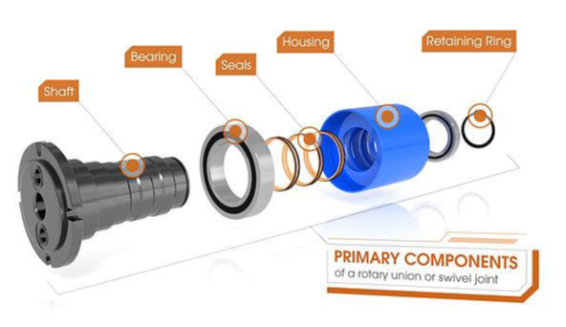 All swivels are not the same and will vary based on the number of mechanical elements on the upper moving section. Swivel joints can require anything from 3 to 10 seals to function correctly.

FPE Seals offer a wide range of competitively priced, OEM quality replacement seal kits for the repair and maintenance of swivel joints on excavators. Find out more here or contact the team to discuss your requirements.